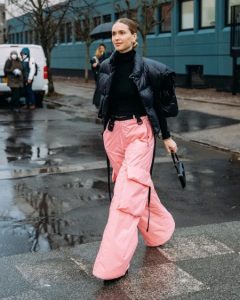 It's been a while since skinny jeans have been declared dead, courtesy of Gen Z and the general shift towards comfortable silhouettes. While relaxed trousers and mom jeans already hold a pivotal position in our wardrobes, "It" girls have moved on to baggier iterations of bottom wear.
On one hand, the fashion industry is witnessing a glorious return to glam with everything from vibrant colors, prints, structured and even sculptural clothing (thanks to Schiaparelli) at the front and center. On the other hand, style experts like Pernille Teisbaek, Emili Sindlev, Dima Sheikhly, and Leena Ghouti, among others, seem hesitant to completely let go of comfort dressing. Turns out, when it comes to pants, size does matter. The gatekeepers of cool are championing dramatically oversized pants, and we are here for it.
Tight, restrictive pants have (almost) vanished off the streets and store shelves, and honestly, we are grateful. Judging from recent street style photos, one thing is evident: we are heading towards an era of wide-legged pants. No, not your regular baggy pants; we're talking about exaggerated silhouettes. Baggy pants — and by baggy, we mean enormous jeans, sweats, trousers, and cargo pants — are the "It" girl-approved trend du jour. Roomy cargo pants with giant utility pockets are especially popular among the cool crowd.
In the case of baggy pants, the creative geniuses at the helms of fashion brands like Balmain, Fendi, Hermès, Zimmermann – who showcased slouchy bottoms on their Spring/Summer 2022 runways – seem to be in agreement with the sartorial influencers.
1/5
Comfortable and breathable, baggy pants are undoubtedly a great wardrobe investment for the warmer months, especially for the scorching hot Middle Eastern summers. All in on the baggy pants trend? Scroll down to discover the "It" girl way of wearing the trend.
1/15
Shop the Baggy Pant Trend
Bottega Veneta Wide-Leg Cargo Pants AED6,172 Net-a-Porter
SHOP NOW
Christopher John Rogers Wide-Legged Pants AED4,642 Net-a-Porter
SHOP NOW
Isabel Marant Wide-Leg Jeans AED1,371 Farfetch
SHOP NOW
Loewe Paneled Wide-Legged Pants AED3,950 Net-a-Porter
SHOP NOW
Marques Almeida Relaxed Jeans AED1,150 That Concept Store
Raey Wide-Leg Leather Trousers AED3,490 Matches Fashion
SHOP NOW
Rains Wide-Legged Pants AED295 Rians
SHOP NOW
1/7